OurBBB DASHBOARD Help
The DASHBOARD is divided into 3 zones - the top, the bottom left and bottom right.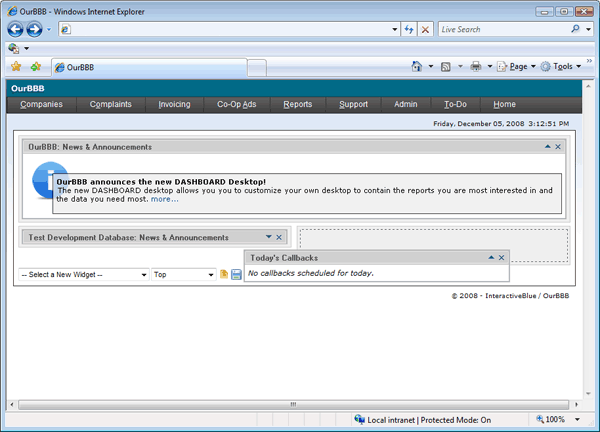 You are free to arrange your DASHBOARD
widgets
- mini reports that contain announcments, news, charts, ticklers and more - in any arrangement and set their default appearance as expanded or collapsed. To move a
widget
simply click on the header text and drag it from one zone to another.

To remove a
widget
- simply click the X in the upper right hand corner of the title bar. To "collapse" a
widget
(hide the content - showing only the title bar) - click the triangle in the upper right hand corder of the title bar. To expand the
widget
- click the same triangle again. To add new
widgets
- use the control bar at the bottom of your home screen.

Select a
widget
from the drop down box, along with its desired placement, and click the "new" icon to add the widget to your screen. You may then drag and drop it wherever you please. Once you're satisfied - click the SAVE disk icon to finalize your screen.
If you don't click SAVE before leaving the screen any changes will be lost.
If at any time you want to revert to the default setup (and "start over") - simply click RESET DESKTOP. We will be adding additional
widgets
- along with some "default" desktops to make building your perfect dashboard easer - in the very near future!